Carbon Shaving Cx-316L/Ti (Titanium Handle) – Original Plate

(USA)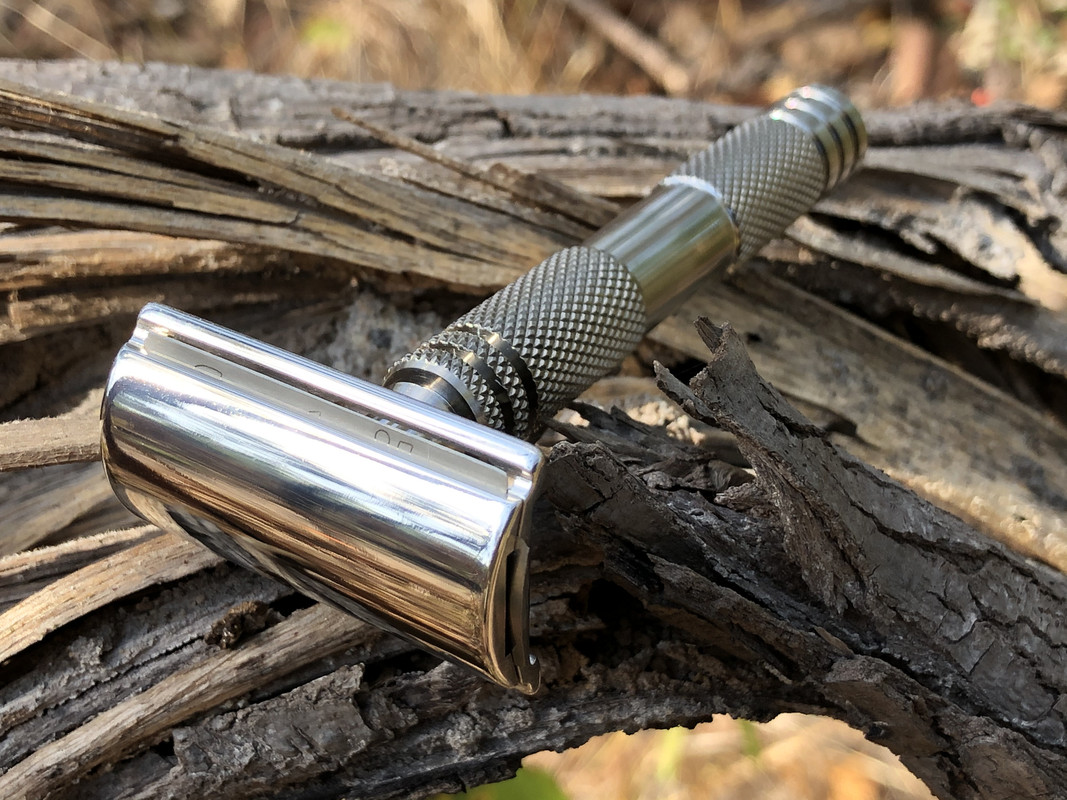 Last year Carbon Shaving released a version of their Cx model with a titanium handle so I bought one. It is pleasing to advise that the quality of fit and finish on this titanium handled Cx-316L/Ti is about 500 times better than the original Cx I received; there are not many complaints but the underside of the cap displays machine marks that have been polished over; I'd prefer to see machine marks than a half hearted attempt to camouflage them. In Carbon's head designed there is no excess metal and with this minimalist approach, the Cx-316L/Ti with the titanium handle weighs in at a remarkable 67g. The balance and feel of the razor is certainly good and that titanium handle is visually striking. Four large triangular lather slots are a feature of the plate and are machined so that you can see across the flats straight through the lather slots on the opposite side. Positive blade clamping is provided on the large clamping surfaces at the edge of the cap and these mate with equally large flats on the plate; a very robust design.
Carbon now produce three different plates for their Cx and this one is the mildest plate, known as the Original Base Plate. Immediately obvious when the razor is loaded and ready to perform is the light weight of the package and moving on from reviewing some heavy weight razors made the weight difference appear more noticeable. After a couple of strokes with the Cx-316L/Ti, I was attuned to the light weight of the package and it was not a factor. There is a realistic amount of blade feel present and with an efficiency around that of a Karve CB Level #C, a very close shave resulted. I appreciated the way the razor just glided over the face for a super smooth shave. Initially the grip on the handle wasn't positive but in a strange twist, when the handle was run under water the grip improved. This is one very pleasant razor to use and to Carbon's credit their quality of production has markedly improved.
Blades Used –
Gillette Nacet and Gillette 7'Oclock Yellow
Material –
316L Stainless steel/ Titanium (6AL-4V ELI) handle
Blade Tab -
Exposed
Weight –
67g
Head Width –
40.66mm
Handle Length –
91.7mm
Handle Diameter –
12.64mm
Availability
– Carbon Shaving
Final Word –
Thoroughly enjoyable