Joined

Apr 17, 2020
Location
Detroit Shaving Alpha - Adjustable (USA)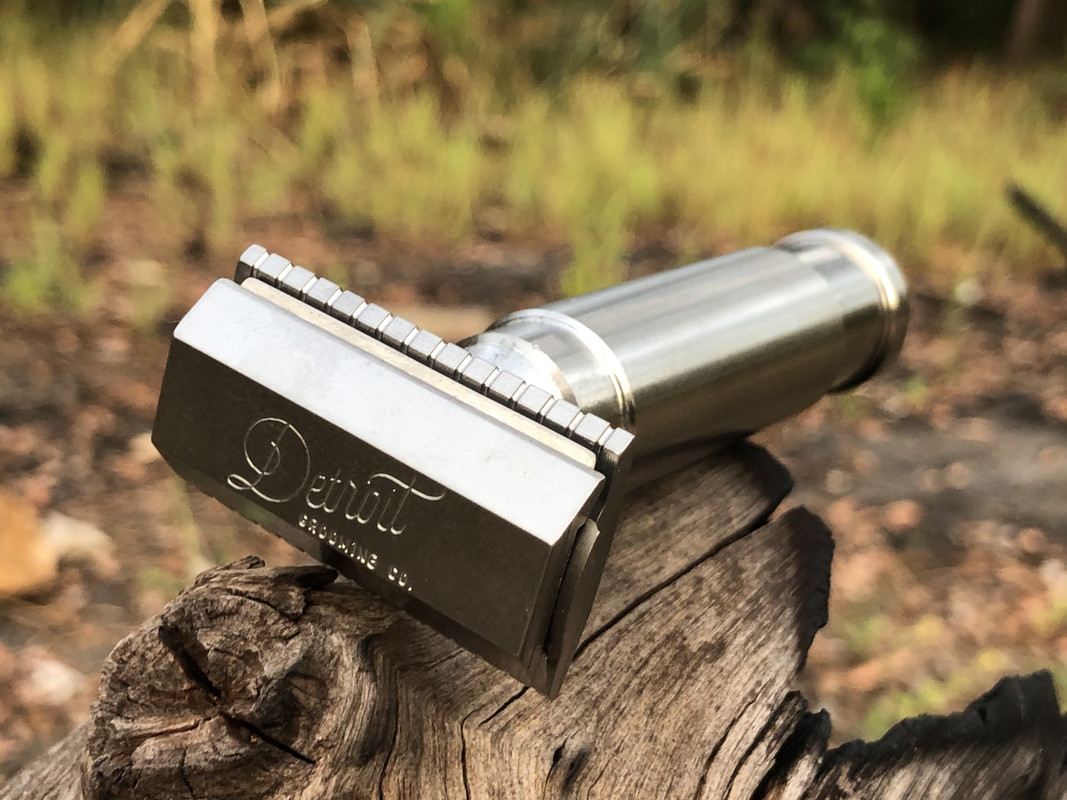 I don't make a habit of naming my razors but when it comes to the undisputed heavyweight of my razors, I think it appropriate for the Detroit Alpha to be christened Bertha - Big Bertha. There is absolutely nothing good that can be said about Bertha, it is terrible razor by any stretch of the imagination, but it keeps drawing me back; it's big, it's heavy, it's cumbersome, it's ugly and that's just it's good features. I've used Bertha before so I know the shave will be less than average and even to achieve that I'll have to put the effort in. Bertha gives nothing away. The Detroit Alpha is a simple three piece stainless steel adjustable razor from a line of thinking where the blade itself provides the spring tension between the cap and the plate; different positioning of the handle provides differing efficiency levels. All good in principal but Detroit in their wisdom overlooked the fact that a user might like to know the level of efficiency for the last shave and so neglected to put any markings to assist with settings. I appreciate I'm different but I like to know insignificant facts like the settings on an adjustable razor, so I hatched a plan. I've explained my strategy previously so here's a brief outline of what was done. I determined where the top on the handle was with a blade fitted and the handle screwed right down; then I filed a small notch as a reference point at the 12.00 O'clock position at the end of the handle. I now have a reference point and can use an imaginary clock face on the back of the plate to determine the position. There is a useful range from between 4.00 O'clock to 12.00 O'clock so somewhere in that range is a spot (doubtfully sweet) for Bertha to give its all. A primitive system, but it works and it's one hell of a lot better than nothing at all. Until I put the blade in and went to screw the handle down, I'd forgotten just how much of the blade tab was exposed on the Alpha; heaps. No problems, use the corner of the towel and screw the handle down and be careful!!!! That amount of exposed blade tab could do damage. Finally, something good, to the manufacturers credit the thread was very smooth and positive.
What? No stand available for Bertha? There's no requirement for a stand when Bertha is quite capable of standing up on its own. With a 20mm diameter base on the handle there is enough contact with the sink for Bertha to stand upright in a gale. There is no machined grip on the handle, its sheer size provides the grip but add in a bit of lather and it behaves like a greasy pig. All surfaces are machine finished and I'm pleased to say the makers had enough intestinal fortitude to engrave their name on it, all over the flat on the front of the cap.
From memory it was around the 7.00 O'clock position where I shaved last time Bertha was used so this was the starting point. It only took a small adjustment from the 7.00 O'clock position to be set up about Karve CB level #D plate level efficiency. Blade feel was quite pronounced but I don't think I will ever fully get used to that weight. It's often said just let the weight of the razor do the work but with all the weight in the handle and balance being all out of kilter, some guidance is required. There are two massive rectangular cut outs in the plate for lather dispersion but for some reason these weren't enough. I've never really experienced a razor just going into what I'll call 'aquaplane mode' before and totally loosing blade contact with the face but I managed it with Bertha. A quick rinse to wash out the excess lather and Bertha was back to as normal as Bertha can be; till the next time the lather clogged up. Smooth – surprisingly it wasn't too bad; close – put in the effort and you may be rewarded. With my warped sense of what's good, I enjoy using the Detroit Alpha but it is not a razor I could recommend to anyone, but I'll be back to use Bertha again.
Blades Used –
Lord Cool and Gillette Wilkinson Sword
Material –
Stainless Steel
Blade Tab –
Exposed - seriously
Weight –
224g
Head Width –
40mm
Handle Length –
89mm
Handle Diameter –
20mm
Availability –
Detroit – Out of production (lucky you)
Final Word –
It's horrible but I love it
That's about double the weight of the average full stainless razor, my arm is tired just thinking about it.